Jupiter e um gato alpha.Ele não tem pais,pois é um gato doméstico que virou membro da tribo.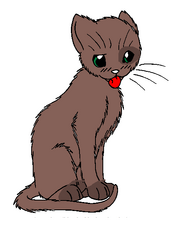 Aparência
Edit
 Ele e um gato marrom com manchas nas patas e em volta de um olho.Os olhos são azuis.
São melhores amigos e fazem tudo juntos.
São bons amigos.
Embora não pareça,eles se odeiam.
Ela tem uma queda por ele.Mas naõ é um amor.
Ad blocker interference detected!
Wikia is a free-to-use site that makes money from advertising. We have a modified experience for viewers using ad blockers

Wikia is not accessible if you've made further modifications. Remove the custom ad blocker rule(s) and the page will load as expected.